Thanks to all who responded to the SAC Survey. Your input is very valuable to further develop the contest for the upcoming years. The survey has been compiled into a downloadable report, in order to give feedback to everyone interested in SAC.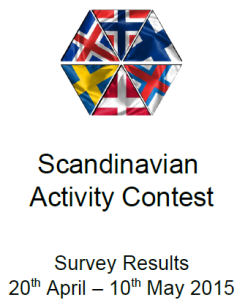 One highlight from the survey is that we need to keep up and increase the activity from Scandinavia in order to make SAC more attractive for everyone. Another thing we need to look into is to further clarify some of the current rules. Overall SAC is highly appreciated all over the world, something to be proud of.
Download the sac-survey-results-2015 (PDF) and take some time to read it through. Especially the free text comments are very interesting.
73
SAC Contest Committee
Ingemar SM5AJV, team leader
Bjørn LB1GB
Kim OH6KZP
Henning OZ1BII